Tyler Whitney: A Proud Young Republican
Tyler seemed so like a good American, that I thought I'd repost my good friend Richard's work here. It is from
allspinzone.com
. Enjoy!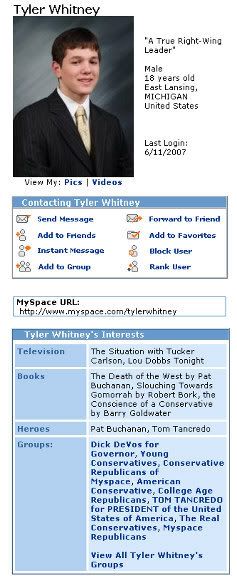 It's been a loooooong time since I had a post that basically wrote itself. So, while I still have to type in the words, trust me, this is going to take no longer to write than it will to format the post for your enjoyment.
Tyler Whitney, as you can see from the excerpt of
his MySpace page
, is a proud Young Republican. For the moment, keep the adjective "proud" in the back of your mind. It'll come into play shortly.
As a young man of legal age, and as a clearly diehard GOP supporter, it would seem that Tyler would be the perfect candidate for a military recruiter. Indeed, as an admirer of (and webmaster for) warhawk and noted homophobic GOP presidential candidate Tom Tancredo, there's little doubt that he's also a big fan of the war in Iraq.
So, picture Mr. Whitney's fresh scrubbed young face topped with a combat helmet, night vision goggles, and wearing a
Dolce and Gabbana
designed desert camouflage uniform, adorned with Airborne insignia (you can almost sense where this is going, can't you?). Given his political predisposition, he's a natural for military service, wouldn't you think?
Well, except he couldn't serve,
because
:
Tyler Whitney, the webmaster for the right-wing antigay Colorado Republican Rep. Tom Tancredo's presidential campaign, has been outed by the Michigan gay paper Between the Lines. [Michelangelo Signorile] had reporter Todd Heywood on the show today. Bay Buchanan, Team Tancredo Senior Advisor and sister of the fire-breathing Pat Buchanan, is defending Whitney, saying, "A person's sexual preference is a personal matter and has nothing to do with the campaign."

In other words, if he wants to work against his own kind -- for a man who's railed against gay rights and has a zero rating from the Human Rights Campaign -- we're happy to have him! ...

Last November, Whitney -- whose father was a speech writer for former conservative Michigan Gov. John Engler, who was no friend to gays -- went to a a YAF-sponsored protest against a pro-gay, pro-trans human rights ordinance and held a sign that said, "Go back in the closet!" Other signs at the protest included "Straight Power" and "Faggotry." ...

Whitney was handpicked to run the Young Americans for Freedom chapter at Western Michigan University by the leader of the MSU chapter, Kyle Bristow. Bristow, who has championed "Catch an Illegal Immigrant Day" and appeared on The O'Reilly Factor, has said that "homosexuality kills people almost to a degree worse than cigarettes… these [pro-gay rights groups] are complicit with murder." ...
Yet, dear readers, there is hope. Representatives from the
Ted Haggard School of Faith Healing, de-Gayhab Division
™ are no doubt standing by as I type this, preparing to offer Tyler assistance.
No word yet on whether young Tyler has contacted the Log Cabin Republican organization to apply for a webmastering support position.
(h/t
Atrios
for the lead...)