A New Emblem For Young Republicans: The Wanna Be Marines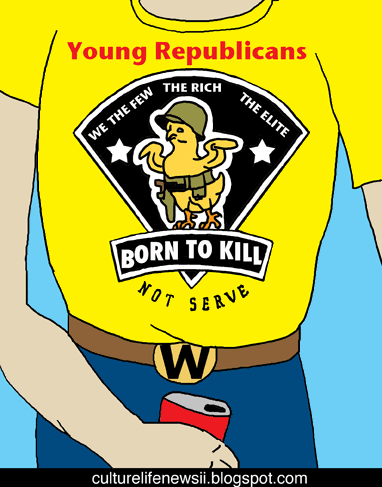 By Elaine Meinel Supkis
Elmo, one of our readers, vet, father, Texan, finds a great webpage, the New Hampshire Gazette. The chick hawk logo comes from their webpage.
From Blind In Texas:
Chickenhawk n. A person enthusiastic about war, provided someone else fights it; particularly when that enthusiasm is undimmed by personal experience with war; most emphatically when that lack of experience came in spite of ample opportunity in that person's youth.
The New Hampshire Gazette
.
The New Hampshire Gazette is an amusing site. Here is a fine editorial about war in general refering to the Civil War:
That is what makes it so hard to ascertain why so many men (and at least a few women, in disguise and otherwise) subjected themselves to the unusual brutality and suffering of that war. Loyalty to the Union obviously played much less of a role than politicians would have us believe, because the vast majority of eligible Northern males shunned military service when preserving the Union was the only official aim of the war. Nebulous notions of freedom came later in the conflict, and devotion to the freedom of black slaves would be a more credible reaction among enlightened moderns than amid the prevailing bigotry of that era.

It was money that seemed to bring many Civil War soldiers into the ranks, if it did not constitute the primary appeal for most of them. The first wave of recruits included legions of unemployed, seeking regular pay and support for their families; then came farmers and factory operatives of modest means, who enlisted for municipal bounties raised by that majority of voters who wished to avoid conscription. As the war consumed more men the government raised each town's quota of volunteers, and bounties soared.
Obvious parallels to now. I want to thank Elmo for finding this site, the internet has grown so vastly, it is a giant forest now and we are the squirrels who run from tree to tree, picking up the nuts, a bounty of nuts because of the many nuts growing on GOP trees, man, are they insane.
Seven soldiers were blown up yesterday as all of Iraq blew apart. More will die tomorrow and the next day as we struggle to control the Pandora's Box of passion and hate and this time, there is no Hope at the bottom of this chest, only graves, many of them, all wasted lives.