WP STAFF TELL RUMMY TO TAKE A HIKE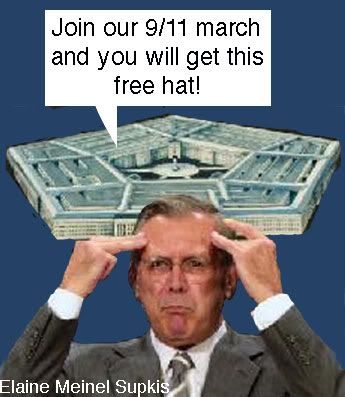 By Elaine Meinel Supkis
From the Editor & Publisher:
he Washington Post announced tonight that it will cease its co-sponsorship of the Pentagon-organized Freedom Walk next month. The paper's involvement had drawn heat from within and outside the paper, with a guild committee today calling for the link to end.

The newspaper told the Department of Defense that it was pulling back on its offer of free ads for the event -- a march up the mall ending with a concert by pro-war country singer Clint Black.

"As it appears that this event could become politicized, The Post has decided to honor the Washington area victims of 9/11 by making a contribution directly to the Pentagon Memorial Fund," said Eric Grant, a Post spokesman. "It is The Post's practice to avoid activities that might lead readers to question the objectivity of The Post's news coverage."
The WP politicizing things? Why, I will faint dead away!
Looks like the employees staged a coup there and the owner and executives had to be helicoptered out of the Watergate Hotel via the roof.
Publisher Bo Jones did not return calls seeking comment on the resolution Monday, but told E&P on Friday that he would remove the Post as a sponsor of the "Freedom Walk" if the event turned out to be "partisan."
Indeed. Partisan? Rummy? He just wanted to set out some bait to attract dupes to sign up for his little wars! This is the height of patriotism since the GOP spawn refuse to sign up.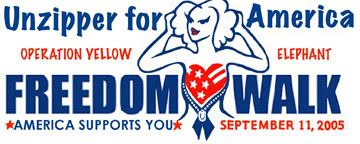 The Pentagon hands out Gold Stars to the lucky moms who lose their children in this war....perhaps they should give all the top GOPers Yellow Moons for hiding their own from this war.
To return to homepage click here