TEXAS SUPPORTS THE TROOPS SOMETIMES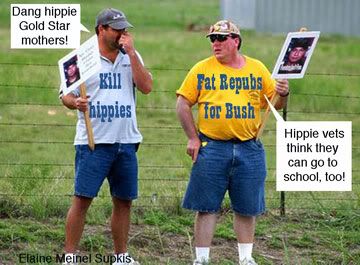 By Elaine Meinel Supkis
From Punditician:
AUSTIN, Texas A decorated Marine enrolling in college was shocked to learn his Texas driver's license, car registration and bank records weren't enough to get the lower resident tuition.

Carl Basham said officials at Austin Community College recently told him that he lost his Texas resident's status because of the years he spent out of state on two tours of duty in Iraq.
Yeah! Texas! This Marine is lucky he isn't running for office as a Democrat or Rush will call him names! And stay at home Texans will drag chains behind their trucks and run him over, I suppose. Show patriotism and love of country.
You know, he should have put on a huge magnet and attached himself to the back of the College President. "Support the troops...oh, the hell with it!"
As the demonstrators for the war and Bush were yelling at the mothers and fathers of dead soldiers: "We don't care!"
To return to homepage click here