NEW EDITOR OF THIS BLOG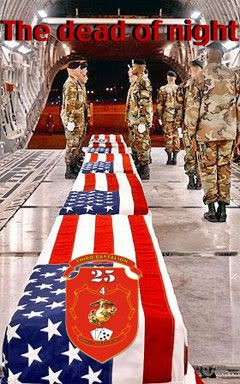 By Elaine Meinel Supkis
From: "Gen. JC Christian, patriot"
Date: August 3, 2005 12:07:08 AM EDT
To:
Subject: Re: A new recruit for posting stuff at Yellow Elephant!


I set you up as an admin. Go for it.
I didn't ask for this job. But if sort of just fell into my lap. I am not JC even though I admire his wit and tenacity, I am different from him in many ways, (like being a female and mother of draft age youths). Like my unease with the Boy Scouts. And my anger about military recruiters in our high schools.
It would be fun to be funny all the time but look at the news just breaking today!
14 Marines just got blown up. 37 dead in the last 10 days!
This isn't just a joke. It isn't just fun and games. There is a serious side to all of this. I am royally pissed off at the GOP and their spawn for foisting this disaster upon us while they make every excuse they can think of to not fight this war they want. This cowardice isn't a joke, it is a disease.
It is the face of evil.
I do want postings for this blog. I am already putting in
Idyllopus.
I have to mess around with the template but will do it today, Idyllopus. Welcome aboard!
Anyone who wants just a specific article posted can do so by emailing me at emeinel@taconic.net.
Thank you, everyone. Hope to hear from you all.
Elaine Meinel Supkis, editor.