A GRIM EDITORIAL
By Elaine Meinel Supkis
This site's motto is "It's their war, why aren't they fighting it?" This is the question from beginning to end. The photo I am posting answers it: they don't want to get hurt. Look at the fearful feelings of the bereaved in today's news. The Young Republicans and their right wing ilk don't want to look at these pictures and so they are "USA, USA" flag wavers while wavering about serving like true patriots.
The blog is dedicated to shoving this war in their faces and forcing them to face reality and do their duty or join us in fighting the war mongers who brought us this disaster.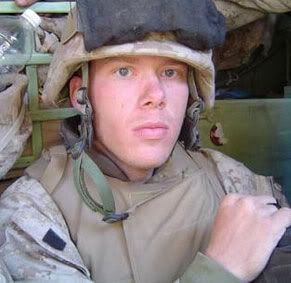 This kid here is dead. He was blown up yesterday. Two days ago, on his off hours, he probably played video games and listened to pop music and messed around with his buddies. Laughing and joking.
Today, a box is inexorably heading home to his family. His body isn't going to be viewed, either. It is all in pieces, burned. I cannot imagine the pain his poor mother is going to feel. She just learned about this a few hours ago, all hope fleeing from her world until the day she dies, too.
The right wing youth supporting this war but hanging out at home, like Bush and Cheney did during Nam, do so because they want to live and be happy. Do whatever they want, irresponsibly. Like Bush and Cheney, the faces of pain mean nothing at all to them.
We can't shame them because they are literally shameless. Like Rush yapping about
, snark and irony is lost on these characters. We can mock them but they mock our nation. And in the end, the real question is, who is the real patiots here?
They point to their flags and their salutes and shouts of "USA" and pretend this sets them apart from us.
So what are WE?
This, only each reader here can answer. If people are coming to this blog looking only for entertainment, well, this ain't Disneyland. Or the Never neverland Ranch, either. It ain't even the Vatican.
It is merely a blog run by volunteers who give their time and effort to spread the word and maybe, just maybe, make someone change their mind.
We ask for and would like any submissions for this blog. I have my own blogs to run and can't write up all the stuff that comes here, nor should the effort fall to any one individual. So please feel free to contact me at emeinel@taconic.net if you have anything written up you want to see posted here.
Thanks in advance. Elaine