FREEDOM WALK WITH RUMMY!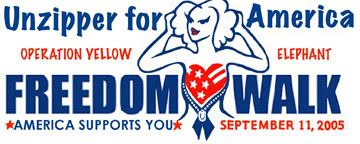 By Elaine Meinel Supkis
They want recruits! And since the Young Republicans won't join, Rummy came up with this idea that everyone will sign up at the Pentagon giving their names and then march off...heh.
Here is the Pentagon sign up page!
Q: What is the America Supports You Freedom Walk?
R: The America Supports You Freedom Walk is an event on September 11 that allows citizens the opportunity to remember the victims of September 11, honor our veterans past and present, and celebrate our freedom.

Q: When is the ASY Freedom Walk being held?
R: The Freedom Walk is being held on September 11, 2005, beginning at 10 a.m. at the Pentagon South parking lot.

Q: What is the ASY Freedom Walk route?
R: The America Supports You Freedom Walk begins near the Pentagon crash site, crossing Arlington National Cemetery, passing several National memorials, and concluding adjacent to the National Mall and Reflecting Pool with an America Supports You concert by country superstar singer and songwriter Clint Black. For more information, visit www.AmericaSupportsYou.com and click on the Freedom Walk icon.

Q: What is America Supports You?
R: " America Supports You," is a nationwide program launched by the Department of Defense (DoD) to recognize citizens' support for our military men and women and communicate that support to members of our Armed Forces at home and abroad. For more information, visit www.AmericaSupportsYou.com.

Q: Who is supporting the Freedom Walk?
R: The America Supports You Freedom Walk enjoys the support of Stars and Stripes newspaper, Pentagon Federal Credit Union, Subway, Lockheed Martin, The Washington Post, WTOP Radio Network, and ABC WJLA-TV Channel 7 & NewsChannel 8, among others.

Q: Where do I check in for the America Supports You Freedom Walk?
R: Participants are encouraged to arrive at the Pentagon South parking lot between 7 a.m. and 8 a.m. for screening to avoid long lines. The first 1,000 to arrive for screening at the Pentagon on September 11, will receive the official America Supports You campaign lapel pin.
Boy, those guys designing this page need to spruce it up which is why Yellow Elephant is doing for them for free!
As a patriot, I know that my design will attract many more young men than their stodgy little number.
Thanks to Carpetbagger Reports!

Indeed, the event's organizers (Rumsfeld's Defense Department) have set up an online registration form that explains, "The Freedom Walk is free and open to anyone who registers…. You MUST have your registration number to check-in!"

That's right, in order to participate in a government-sponsored "Freedom Walk" on public streets past public monuments, from one outdoor public landmark to another, you have to give your name address, phone number, and email address to the Pentagon.

Perhaps, you're thinking, there are security concerns. Maybe, but that's not a good reason to "screen" people who want to participate in this walk. DC hosts elaborate 4th of July festivities, with thousands of people going to the exact same places this walk will go, but no one is screened or forced to register. For that matter, people can watch a presidential inauguration and/or inaugural parade in DC just by showing up.

But before commemorating 9/11 and walking to a Clint Black concert, the Pentagon has a few questions for you.

I don't live in DC anymore, but it'd be fascinating to be on hand to see who gets "screened out" before the event. What if, by chance, someone shows up with a "No Blood for Oil" bumper sticker? Or worse, t-shirt?
Can some people show up with Yellow Elephant stuff?
Heh.
Watch out, we will nail those slackers hiding from the Pentagon!