COUNTRY WESTERN 911 HOOTNANNY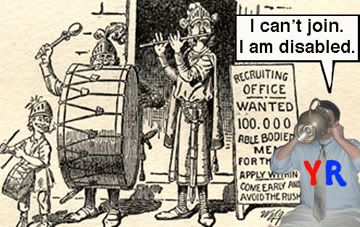 By Elaine Meinel Supkis
Failing to attract recruits via the Yellow Elephant recruitment drive, Rumsfeld takes a new tack:
From The News Blog of Steve and Jen:
The Pentagon would hold a massive march and country music concert to mark the fourth anniversary of the September 11 terrorist attacks, US Defence Secretary Donald Rumsfeld said in an announcement tucked into an Iraq war briefing today.

"This year the Department of Defence will initiate an America Supports Your Freedom Walk," Rumsfeld said, adding that the march would remind people of "the sacrifices of this generation and of each previous generation".

The march will start at the Pentagon, where nearly 200 people died on September 11, 2001, and end at the National Mall with a show by country star Clint Black.

Word of the event startled some observers.

"I've never heard of such a thing," said John Pike, who has been a defence analyst in Washington for 25 years and runs GlobalSecurity.org.
There is no lure that will get these slackers to join in a real war. Today, another seven unlucky, non Young Republicans were blown up in Iraq. It is now well over 2,000 dead for Iraq and Afghanistan.
Maybe they are playing the wrong music? They should take out those old Hitler Youth songs. Maybe that will inspire these useless Young Republicans to join.